CELEBRITY REAL ESTATE PAGE 53
<<<PAGE 52<<< CELEBRITY HOME PAGE INDEX HOME PAGE >>>PAGE 54>>>
UPDATED OCTOBER 22, 2007
MALIBU CASTLE
23800 Malibu Crest Drive
MALIBU, CALIFORNIA
THIS IS NOT A CELEBRITY OWNED HOME BUT A CELEBRITY ON ITS OWN AS A FAMOUS MALIBU LANDMARK
$17,000,000
CASTLE WAS SOLD AND IN ESCROW AND DUE FOR A FINAL WALKTHROUGH IN A FEW DAYS IT HAS BEEN DESTROYED IN THE MALIBU FIRE
( SEE PICTURES OF FIRE AND NEWS ARTICLE BELOW )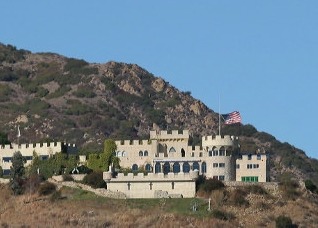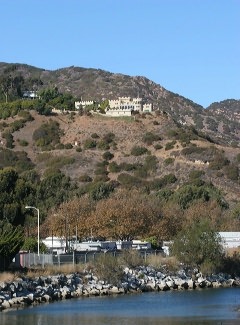 MALIBU LANDMARK PROPERTY FOR ONLY THE TRULY UNIQUE! ENTERTAINER'S PARADISE WITH VIEWS FROM EVERY DIRECTION- "THE CASTLE" SITS ON A KNOLL ADJACENT TO SERRA RETREAT OVERLOOKING MALIBU COLONY & SURFER'S POINT. SPECTACULAR IN EVERY WAY!!!

Rooms: 6 Beds 8.00 Baths
Bar, Basement, Breakfast Area, Breakfast Bar, Center Hall, Den, Dining, Dining Area, Family, Library/Study, Living, Sun
Equipment:
Built-Ins, Cable, Dishwasher, Freezer, Garbage Disposal, Hood Fan, Intercom, Microwave, Range/Oven, Refrigerator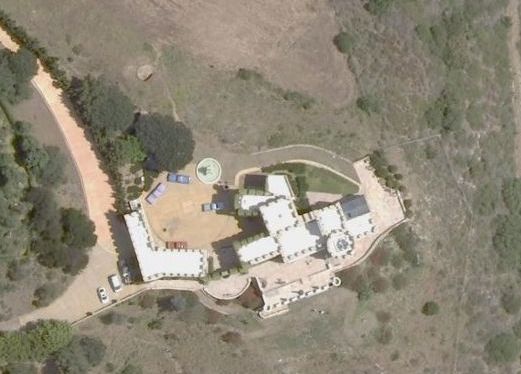 Landmark castle destroyed
Castle Kashan and Malibu Presbyterian Church fall victim to flames.
Two of Malibu's most prominent and beloved landmarks -- one a palace of secular dreams and the other a center of religious devotion -- were destroyed Sunday.
Lost to the flames was the Castle Kashan, the fairy-tale-like structure that stood for 30 years atop a Malibu hill, recognizable from below by its turrets and round towers. Also ravaged was Malibu Presbyterian Church, a high-steepled place of prayer and community action that had barely escaped destruction in the November 1993 infernos, which burned more than 300 homes in Malibu, Topanga and Calabasas.
The castle, filled with paintings and Elvis Presley memorabilia, was one of several homes of socialite-philanthropist Lilly Lawrence, known as "Princess Lilly." Castle Kashan was named after the village of her father, Reza Fallah, a former Iranian oil minister under Shah Mohammad Reza Pahlavi.
About 6:30 a.m., Lawrence and a house guest were trapped inside her sprawling home, but they managed to escape.
Wearing a bathrobe, slippers and oversized sunglasses, Lawrence returned later to survey the wreckage and retrieve some belongings and emerged about 1:40 p.m. with friends carrying shopping bags. She thanked firefighters who remained outside battling the blaze.
"My possessions don't possess me. My house does not possess me," she told them. "I'm thinking about our boys in Iraq. I'm thinking about you boys."
Earlier this year, the six-bedroom, eight-bathroom castle overlooking Malibu Lagoon was listed for sale at $17 million. The 10,500-square-foot compound was in escrow briefly -- "for a minute" -- at an undisclosed price before Lawrence canceled the sale, she said Sunday. Lawrence said might consider rebuilding: "I'm keeping an open mind."
The mansion was built in 1978 by a doctor, Thomas Hodges. Lawrence bought it in 1998 and spent a considerable fortune on remodeling. Television shows such as "The Rockford Files" were shot there and the castle was available to rent for weddings amid its romantic archways and lion sculptures.
Lost in the fire were many works of art, family heirlooms, Faberge eggs and museum-worthy collections. Lawrence's library included signed photos from U.S. presidents.
Firefighters were able to rescue a few paintings, including one believed to be a portrait of Lawrence's father, and piled some furniture and mementos in a dry fountain outside the house. Included was a snapshot of a woman shaking hands with President Lyndon B. Johnson.
The castle's staircase was red-carpeted and a Cinderella-like glass slipper was kept on a step, attesting to Lawrence's humor and style.
An incongruous feature was the rock 'n' roll room that Lawrence, a die-hard Elvis fan, had decorated with the couch-like seat from a 1959 Cadillac and a "Gates of Graceland" mural. Lawrence said among the few things she grabbed during her evacuation were Presley's Army fatigues, which she bought many years ago from Graceland.
| | |
| --- | --- |
| SIDE BY SIDE PICTURES BEFORE AND AFTER | |
| | |
| | |
| | |
| | |
| | |
CASTLE IS IN UPPER RIGHT HAND CORNER

I HAVE MANY TIMES WARNED PEOPLE TO NOT CONSIDER LIVING IN HOMES IN THIS AREA ABOVE. THIS AREA HAS BURNED AT LEAST 4 TIMES SINCE 1970, SOME HOMES HAVE BEEN REBUILT THREE TIMES. NOT EVERY HOME HAS BEEN DESTROYED BUT ENOUGH HOMES ON A REGULAR BASIS THAT I WOULD USE MORE CAUTION ON LIVING HERE THAN ANYWHERE ELSE IN MALIBU. THE CASTLE UNTIL NOW HAS ALWAYS SURVIVED, WHILE MANY OF THE HOMES HERE ON THE HILL HAVE NOT. THE VIEW IS INCREDIBLE BUT THE FIRE SAFETY HISTORY IS NOT. THIS AREA ALWAYS BURNS IN THE MALIBU FIRES.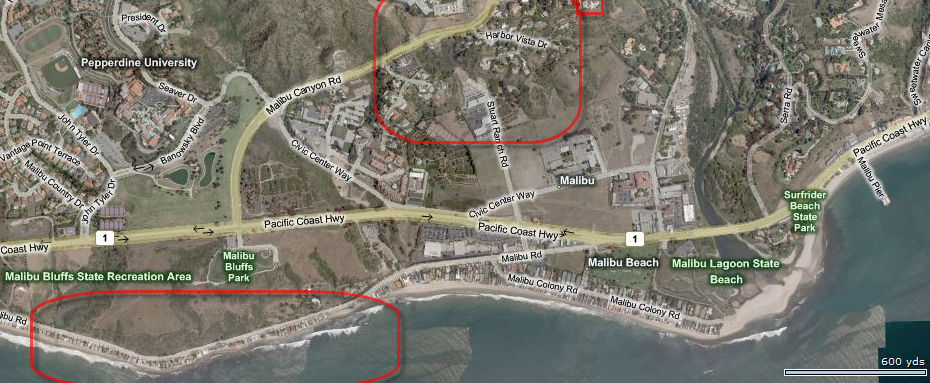 THE HOMES ON THE BEACH WITHIN THIS CIRCLE HAVE RANDOMLY BEEN DESTROYED EVERY MALIBU FIRE. MOST TIMES 1 OR 2 HOUSES BURNED, THE NEXT 4 SAFE, THE NEXT HOUSE BURNED, THE NEXT 2 SAFE AND SO ON. THE UPPER CIRCLE IS THE AREA PICTURED ABOVE AND THE CASTLE IS IN THE LITTLE SQUARE ABOVE.




Castle of N.Y. socialite Lilly Lawrence destroyed by L.A. fires

BILL HUTCHINSON
N.Y. DAILY NEWS STAFF WRITER
Monday, October 22nd 2007, 4:00 AM

Former New York socialite Lilly Lawrence narrowly escaped being burned to death Sunday when one of a string of Southern California wildland fires destroyed her $17 million castle.

The 67-year-old millionairess said she didn't realize the wind-whipped blaze was at the doorstep of her 6,256-square-foot Malibu Hills home until a friend called from New York to tell her.

"We were in the house and the fire was burning all around us," Lawrence said after firefighters helped her and a guest evacuate just seconds before her Castle Kashan was engulfed by flames.

Lawrence's mansion was among at least 23 homes and businesses, including the Malibu Presbyterian Church, damaged or destroyed in the fires.

Officials said the blaze was sparked at 5 a.m. by downed power lines. The Santa Ana winds, blowing up to 70 mph, sent embers flying across the exclusive oceanside area.

The fire was one of at least 10 that scorched thousands of acres from Los Angeles to San Diego, killing one person and injuring 14, including four firefighters.

Hundreds of people were evacuated, and students at Pepperdine University in Malibu were forced to flee their dorms.

Lawrence's friend in Queens, Jeanne King, said she was watching the fire on CNN just before 10 a.m. local time and noticed how close it was to the castle.

"I call Lilly on her cell phone and she answered, and I said, 'What ... are you doing?' I said, 'Get the hell out of there right now!' She was still in the bedroom. I could not believe it."

Daniel Collins, who was visiting Lawrence, said firefighters evacuated them to a guest house until it was safe to leave.

"Flames were licking at the windows," Collins told CNN.

Sisi Rosenson of Malibu said she was driving to Lawrence's home to pick her up, but was beaten back by smoke and flames.

Relatives began calling her from New York to inform her they were watching Lawrence's home go up in flames on TV.

"I started crying hysterically," Rosenson said. "You don't understand what I went through emotionally because in my mind, I thought she was there."

Lawrence eventually got Rosenson on her cell phone.

"I'm absolutely well, as well as can be expected," Lawrence told the Daily News last night. "It's just unbelievable."

Lawrence's six-bedroom mansion resembling a 13th century Scottish castle, which has appeared in "Fantasy Island" and "The Rockford Files," was completely destroyed.

Her priceless Elvis Presley memorabilia collection, including one of the King's cars, was in ruins.

"The loss is way up in the double-digit millions," said Lawrence, who also lost countless heirlooms from her father, Reza Fallah, once the oil minister for the Shah of Iran.