CELEBRITY REAL ESTATE PAGE 61
<<<PAGE 60<<< CELEBRITY HOME PAGE INDEX HOME PAGE >>>PAGE 62>>>
UPDATED MAY 12, 2009
594 S.MAPLETON DR, LOS ANGELES, CA 90024
$150,000,000
Active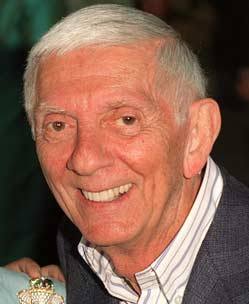 AARON SPELLING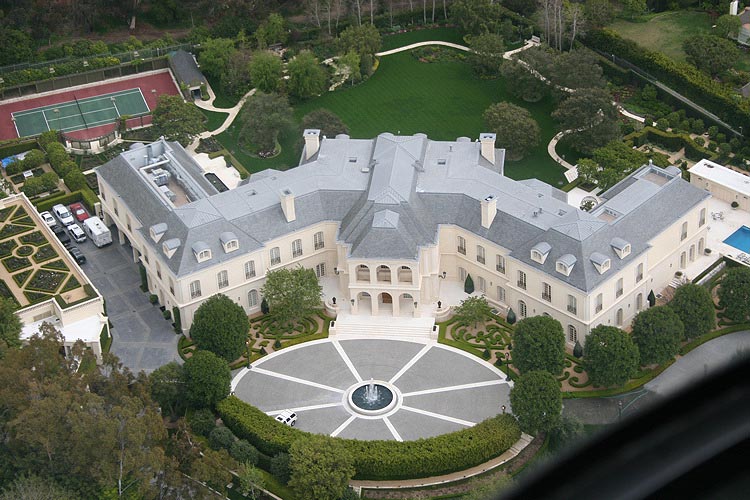 The Spellings bought the nearly five-acre property for $47.5 Million — once the home of Bing Crosby — in the early 1980s, tore down the house and rebuilt. When completed in 1991 it was considered the largest home in Los Angeles by far.
The late producer's 123 room mega-mansion, 'The Manor', Candy Spelling was rumored to have listed it in 2006 for the same price. She didn't consider lowering the price. "The ones who could afford it three years ago, can still afford it today," $150 million "is not a lot.
"The 56,500 square foot French chateau-style mansion behemoth is now the most expensive home on the market in the United States and has beat out Fleur de Lys. The home has a massive foyer with 30 ft. ceilings and a double staircase, 12+ bedrooms, 23 or 26 bathrooms (Candy can't remember, lol.), a bowling alley, wine cellar, wine tasting room, gym, doll room, gift wrapping room, a humidity controlled silver storage room, china room, home theater, library, a 17,000 square foot attic with barber shop and beauty salon, and many many other rooms.
The room features a movie projection system that automatically comes up from the floor at the same time that shades extend over the windows. "I wanted Aaron to have the best projection room anyone had ever seen, and the biggest.
The home also has a separate wing that houses 7 bedrooms, a kitchen, five fireplaces, and four bars just for the staff.
Lavish features also can be found outside the house, including a tennis court, fountains, a waterfall, a pool and spa, a reflection pool and a pool house with a kitchen, and 16 car ports, and a motor court that can amazingly accommodate 100 cars.
The estate also boasts an 18th Century-style garden, a rooftop rose garden and a citrus orchard.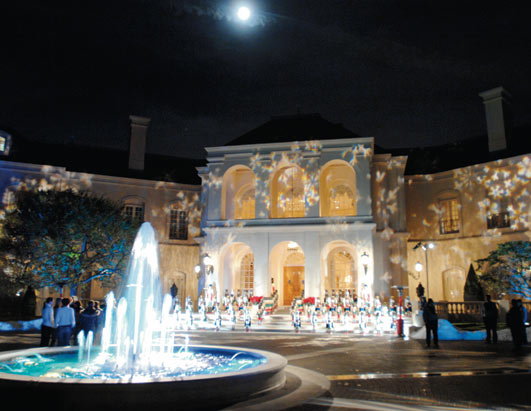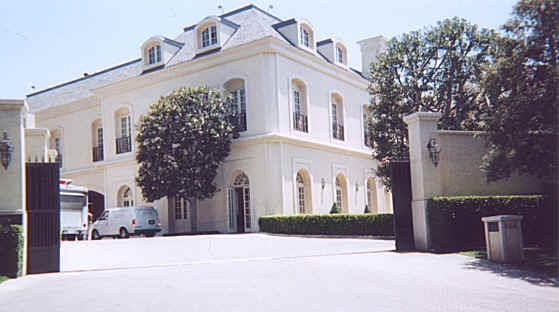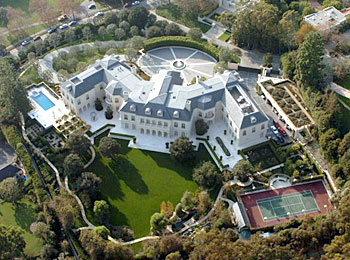 <<<PAGE 60<<< CELEBRITY HOME PAGE INDEX HOME PAGE >>>PAGE 62>>>